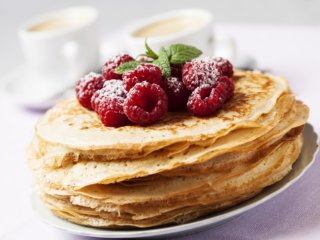 Pancakes
Easy to make and delicious. Make them thin if fruit & sugar is your choice or thick ones for stack with bacon & syrup.
TIME: prep: 10 mins, cook: 20 mins
SERVES: makes 12 thin pancakes or 8 thick ones
Ingredients
100g plain flour
2 large free range eggs
300ml whole milk
pinch of salt
Featured produce
This recipie features our lovely...
Method
Put the flour, eggs, milk and a pinch of salt into a bowl or large jug, then whisk to a smooth batter.

Heat the frying pan and brush with a little oil.

Ladle two or three tablespoons of batter ( for thin ones, double that for thick ones) into the pan and tilt the pan so that the batter spreads out evenly.

Cook the pancake over a medium-high heat until small holes appear on the surface, the underside is lightly browned and the edge has started to curl. 

Loosen the pancake and turn it over by tossing or flipping it with a palette knife. Cook the other side until golden.

Serve with your choice of fruit and sugar, or grilled dry cured bacon with golden syrup.