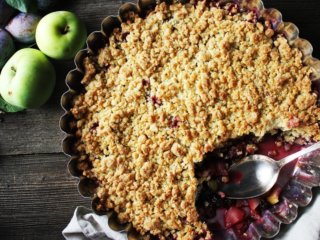 Autumn Crumble
Use what's in season to bake this gorgeous pudding.
TIME: prep 30mins
SERVES: 5-6
Ingredients
400g apples or pears or mixture, cored and cut into small pieces
400g stoned plum, cut into chunky wedges
200g of blackberries
2 - 3 tbs of demerara sugar
double cream, ice cream or natural yoghurt to serve
For the topping:
140g plain flour
140g wholemeal flour or oats ( or mixture)
180g butter cut into small pieces
100g soft brown sugar
1tsp of cinnamon if preferred ( we like adding a bit of mixed spices sometimes)
Featured produce
This recipie features our lovely...
Method
First make the topping. Put the flours (or mixture of flours with oats) in a bowl with a pinch of salt, then rub in the butter until it resembles breadcrumbs. Stir in the sugar and cinnamon with a fork, and chill until needed.

Heat oven to 180C/160C fan/ gas 4.


Tip the apples, plums and sugar into a big saucepan with 50 ml water and cook, stirring, for about 5 mins, until the apples are soft and juicy.

Stir in the blackberries, and tip into a baking dish.

Scatter over the crumble and bake for 45-55 mins until the topping is golden and the fruit is bubbling.