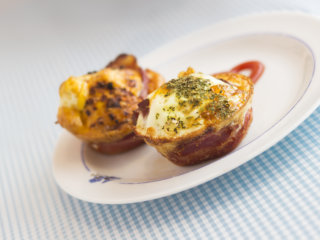 Bacon & Egg breakfast cups
It is a great way to make your bacon and egg weekend breakfast look fabulous or try to make a batch and grab when you are hungry.
TIME: Prep:10 mins/cook:13mins
SERVES: 3 people
Ingredients
6 slices of thick bacon
6 free range eggs
2 tbsp. of grated mature cheddar
3 tbsp. of milk
Freshly ground pepper to taste
Featured produce
This recipie features our lovely...
Method
Preheat the oven to 180C. Grease a 6 hole muffin or Yorkshire pudding tin with butter or cake-release spray.

Precook the bacon slices by frying them for about 2 mins

Line the tins with bacon around the edges to form a ring

Add the milk, chives and cheese to the beaten eggs and mix well

Pour the egg mixture into the bacon cups

Bake the bacon and egg cups for 10 - 15 mins depending on your preferences ( 10 minutes for runny centres, 13 - medium, 15 -hard)

Allow the bacon & egg cups to cool for about 3 minutes and then remove carefully.

Garnish each cup with chopped parsley or chive if desired.

Enjoy!