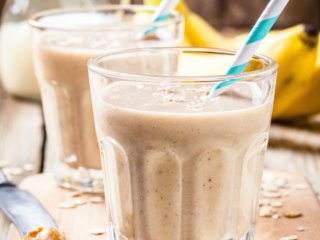 Peanut Butter and Banana Shake
This shake provides a boost of protein and a dose of calcium, it is a perfect way to start your day or recover from a workout.
TIME: Prep: 5 mins
SERVES: 1
Ingredients
250ml whole or semi-skimmed milk
½ tsp natural cocoa powder or 1 tsp of drinking chocolate powder
1 medium size banana sliced
1 tablespoon smooth peanut butter
½ teaspoon vanilla extract
¼ teaspoon ground cinnamon (alternative)
Featured produce
This recipie features our lovely...
Method
Combine all ingredients in a blender and blend until smooth and creamy.

Serve freshly made.