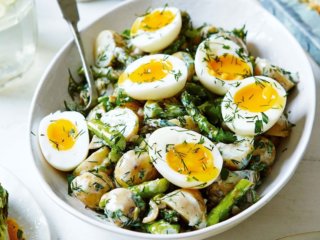 Free Range Egg & new potato salad
Great with British asparagus, tendersteam broccoli or green beans depending on what's in season.
TIME: Prep: 10 mins
SERVES: 2
Ingredients
200g boiled or baked new potatoes
3-4 hard-boiled free range eggs
quarter of cucumber diced
Juice of half a lemon
Handful of salad leaves - parsley or rocket or mixture of both
2 tbsp Olive oil
Optional: handful of boiled green beans, or steamed tenderstem broccoli or asparagus
Featured produce
This recipie features our lovely...
Method
Toss boiled/baked new potatoes with the olive oil, lemon juice.

Add quartered hard-boiled eggs and green beans or tenderstem broccoli/asparagus at this point. 

Toss with wild salad leaves and some diced cucumber to serve.