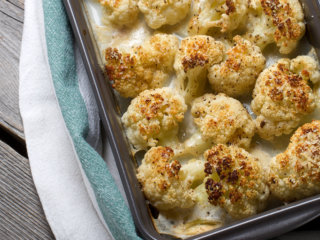 Cauliflower Cheese
A classic comfort food and as simple as it is delicious. Makes the perfect accompaniment to roast or grilled meat and poultry but is also perfect served as a simple veggie supper.
TIME: Prep less than 30 mins Cooking 30 mins.
SERVES: 4 people
Ingredients
1 large head cauliflower, broken into large florets
50g butter
500ml milk
40g plain flower
100g mature cheddar cheese grated
1 tsp English mustard
salt and freshly ground black pepper
Featured produce
This recipie features our lovely...
Method
Preheat the oven to 190C/375F/Gas 5

Place cauliflower in a large saucepan of salted water.  Bring to the boil and cook for 3 minutes, until the cauliflower is almost tender, but still fairly firm.

For the sauce:

-  melt the butter in a medium, heavy-based pan and stir in the flour,

-  cook over a gentle heat for one minute and then gradually add the milk, a little at a time, stirring well between each addition,

-  bring the mixture to the boil, stirring constantly,

- simmer for two minutes, then remove from the heat,

-  add the mustard and most of the cheese and set aside

Arrange the cauliflower in and ovenproof baking dish.  Pour over the sauce, and scatter over the remaining cheese and bake for 25-30 minutes, until the top is golden-brown and bubbling.